[ad_1]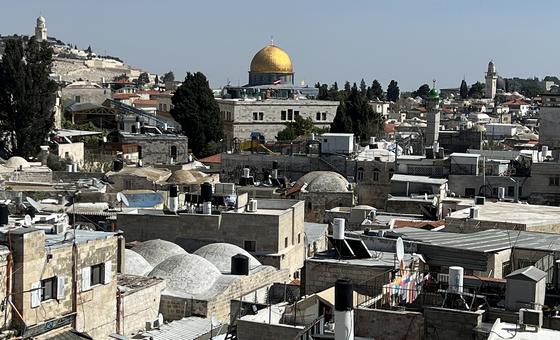 Israeli forces stormed Al-Aqsa mosque, also commonly known as al-Qibli mosque, overnight, arresting more than 350 people, according to media reports.   
The raids continued into Wednesday morning. In response, Palestinian militants in the Gaza Strip fired rockets at Israel. 
Appalling violence 
Mr. Wennesland issued a statement saying he was appalled by the images of violence inside the mosque, which is located in the Old City of Jerusalem and considered the third holiest site in Islam. 
"I am disturbed by the apparent beating of Palestinians by Israeli security forces and large number of arrests. I also strongly reject the stockpiling and use of fireworks and rocks by Palestinians inside the mosque," he said. 
Al-Qibli mosque, within the overall compound of Al-Aqsa, is situated on Temple Mount, which is sacred to Jews.   
Violent clashes took place there two years ago, sparking 11 days of deadly conflict between Israel and Palestinian armed groups in Gaza. 
Safety at holy sites 
The latest raid took place during the holy month of Ramadan and on the eve of the Jewish Passover holiday, against a backdrop of rising unrest between Israelis and Palestinians.  
"This holy period and places of worship should be for safe and peaceful religious reflection, noting that nearly 600,000 people have visited the Holy Sites in Jerusalem since the beginning of Ramadan," said Mr. Wennesland, the UN Special Coordinator for the Middle East Peace Process
"I call on political, religious and community leaders on all sides to reject incitement, inflammatory rhetoric, and provocative actions." 
Refrain from escalation 
The UN envoy insisted that the "historic status quo" of the holy sites must be upheld, in line with the special role of Jordan, their custodian. 
"Leaders on all sides must act responsibly and refrain from steps that could escalate tensions," he said, adding that "the indiscriminate firing of rockets from Gaza is unacceptable and must stop." 
He said the UN remains in close contact with all parties to de-escalate the situation. 
[ad_2]

Source link