[ad_1]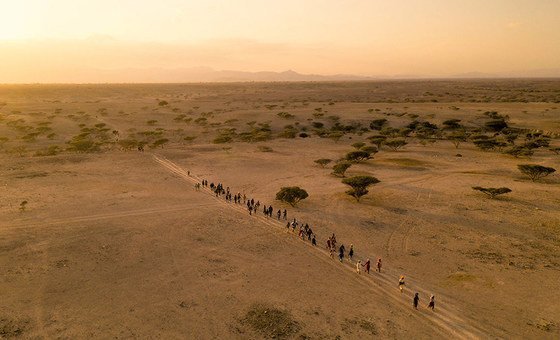 "Tunisia must immediately stop hate speech and violence against migrants from south of the Sahara," the independent UN-appointed experts said in a statement issued under the Committee's early warning and urgent action procedure.
The mechanism aims at considering situations that may escalate into conflicts with a view to taking preventive actions to avoid full-scale violations of human rights under the International Convention on the Elimination of All Forms of Racial Discrimination.
End racist violence
As such, the Committee called upon Tunisia to combat all forms of racial discrimination and racist violence against Black Africans, especially those who are sub-Saharan migrants or Tunisian citizens.
Urging Tunisia's highest authorities to publicly condemn and distance themselves from racist hate speech by politicians and public and private figures, they also asked them to refrain from making remarks contributing to racial hatred and racial discrimination against migrants from sub-Saharan African countries and to proactively condemn anyone who did so.
In terms of reported rights violations, the Committee requested that Tunisia immediately halt the arrests and collective detention of migrants, release those who are arbitrarily detained, especially women and children, and allow those who choose to apply for asylum to do so.
The experts asked Tunisia to investigate cases of migrants being arbitrarily removed from their jobs or homes and to take other measures to prevent and combat all forms of racial discrimination.
Racist rhetoric
The experts said they were alarmed by remarks made by Tunisia's Head of State in late February, alleging that "hordes of illegal migrants" arriving from African countries south of the Sahara were part of "a criminal plan to change the composition of the demographic landscape of Tunisia" and were the source "of violence, unacceptable crimes, and practices".
Such remarks violate the International Convention on the Elimination of All Forms of Racial Discrimination, they said.
Forced evictions
Following the violence-triggering racist remarks, hundreds of migrants from countries including Côte d'Ivoire, Mali, and Senegal, decided to return to their home countries, the experts said.
They said many other sub-Saharan migrants and refugees were forcibly evicted from their homes or lost jobs,  and were subsequently forced to seek protection and help from the International Organization for Migration (IOM) and the UN refugee agency (UNHCR).
Arbitrary actions
The experts' statement included a snapshot of other recent human rights violations. They pointed out that the number of arbitrary detentions of sub-Saharan migrants significantly increased since the beginning of February, while some men, women, and children have been detained for more than 18 months.
The Committee voiced alarm over reports that a "campaign" called "Strengthening the security fabric and reducing the phenomenon of illegal stay in Tunisia", is leading law enforcement officials to make arbitrary arrests of migrants, including women, children, and students, without procedural guarantees.
Online hate speech
The experts voiced deep concern over reports of an increase of racial or xenophobic hate speech on social networks and some other media, including by private personalities and political party members, especially following remarks made by the Tunisian president.
This wave of hate speech and stigmatization has led to acts of violence against these migrants, including physical attacks and evictions.
About the Committee
The Committee on the Elimination of Racial Discrimination monitors States parties' adherence to the Convention on the Elimination of All Forms of Racial Discrimination, which, to date, has 182 States parties.
The Committee is made up of 18 members who are independent human rights experts drawn from around the world, serving in their personal capacity. They are not UN staff and are not paid for their work.
[ad_2]

Source link