[ad_1]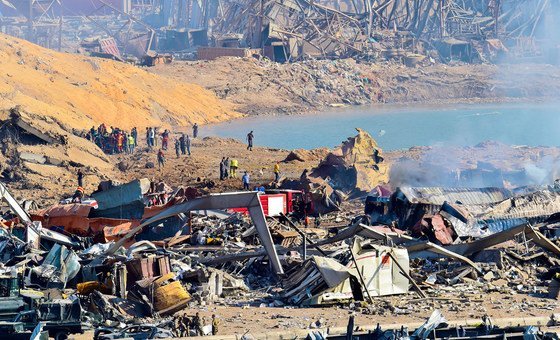 Special Rapporteur Margaret Satterthwaite expressed grave concern over interference in the investigation, including threats against Judge Tarek Bitar, who has been leading the process since February 2021. 
"Judges should never be threatened or subjected to criminal or disciplinary action simply for doing their job," she said. 
Justice delayed 
More than 200 people died as a result of the blast, which ripped through Beirut's port, causing extensive damage to the city, and unleashing dangerous chemicals into the atmosphere.  
Another 7,000 were injured, while some 300,000 people were displaced. 
Ms. Satterthwaite, whose mandate upholds the independence of judges and lawyers, condemned undue delays that have prevented justice for those affected by the disaster. 
"I am deeply disturbed by reports that former State officials and others who have been implicated in the case have disingenuously resorted to recusal proceedings and other challenging actions directed at the investigating judges appointed to examine the case," she said.
"This has led to the replacement of an investigating judge in February 2021, as well as several suspensions of the investigation in recent months," she added. 
Obstacles and threats 
The rights expert pointed to reports that since the explosion was referred to the Lebanese Judicial Council for investigation, authorities have rejected requests to lift parliamentary immunity and allow security officials to be questioned.  
She said the Lebanese Government has also failed to execute arrest warrants against former ministers.  Meanwhile, Judge Bitar has faced increasing obstacles and threats, and no one has been tried to date.  
On 23 January, the judge announced that investigations would resume following a 13-month pause, according to media reports. 
Two days later, he was charged with several offences, including 'usurpation of power', and subjected to a travel ban. 
Efforts to discredit 
"A number of motions have been filed with the intention of removing Judge Bitar from the case, and there is an ongoing campaign on television and social media to discredit him," said Ms. Satterthwaite, noting that the judge has reportedly received credible death threats and is currently under military protection. 
"Judge Bitar must have the security he needs to carry out his work," she said. "I urge Lebanese authorities to ensure that these threats are investigated, and that the judge, his colleagues and his family are adequately protected." 
Ms. Satterthwaite said victims and their families have been seeking justice for well over two years.   
Uphold judicial independence 
She urged the authorities to take immediate action to protect the independence and integrity of the investigation and ensure that those responsible for the explosion can be held accountable. 
"Those affected by the blast have a fundamental right to the protection of the law and to effective remedies," the UN expert said. "That can only happen if the independence of the judiciary is upheld." 
About UN Special Rapporteurs 
Special Rapporteurs and other independent experts are appointed by the UN Human Rights Council in Geneva to monitor and report on specific country situations or thematic issues. 
They are not UN staff and do not receive payment for their work.
[ad_2]

Source link