[ad_1]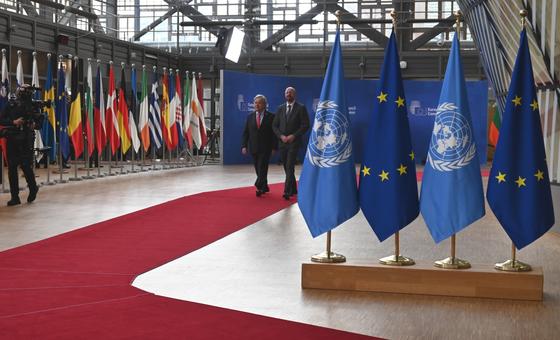 In a joint press encounter with the President of the European Council, Charles Michel, Mr. Guterres appealed for EU leaders to help the world "get back on track" towards the Sustainable Development Goals (SDGs) at a time when progress in so many parts of the world had been reversed.
Acceleration and reform
"We need an acceleration agenda," he said.
Mr. Guterres also highlighted the need for financial system reforms and urgent climate action.
He said the Russian invasion of Ukraine is causing "tremendous suffering" to the Ukrainian people, but also having a "huge impact" around the world.
The Secretary-General today attended a session with the members of the European Council in Brussels. 
'Timely opportunity'
In a readout of his closed door session with European Council members – the body that forms part of the executive of the European Union alongside the European Commission – The Spokesperson's Office said on behalf of the UN chief that it had provided a "timely opportunity to discuss pressing global matters".
Mr. Guterres thanked the European Union for its strong support of the UN and multilateralism overall, calling for greater cooperation in implementing his 'Our Common Agenda' blueprint, and next year's Summit of the Future.
On Ukraine, he stressed the need for a "just peace" in line with the UN Charter, international law overall, and the General Assembly's resolution.
"He provided an update on enhancing global food security through the Black Sea Grain Initiative and efforts to facilitate the exports of Russian food and fertilizers", commending all EU citizens who had shown solidarity with the millions of Ukrainian refugees who have left the war zone.
Keeping 1.5 alive
On climate change, Mr. Guterres stressed the importance of his agenda to accelerate specific actions from all parties to implement recommendations of Monday's IPCC report, "to keep the 1.5-degree limit alive."  
  
"He welcomed the European Green Deal as a significant step in this direction and encouraged the EU to scale up its financial and technological cooperation with emerging and developing economies to close the emissions gap and deliver climate justice in the form of green jobs, strengthening adaptation, implementing the loss and damage fund, and protecting vulnerable communities everywhere."
 
The Secretary-General expressed concerns about the "perfect storm" facing many developing countries from the COVID crisis, and cost of living crisis stemming from the invasion of Ukraine and accelerating climate change.
  
He underlined the importance of putting in place measures for a more equitable economic and financial system, including through banking reform, more effective debt relief, and an SDG stimulus.
[ad_2]

Source link