[ad_1]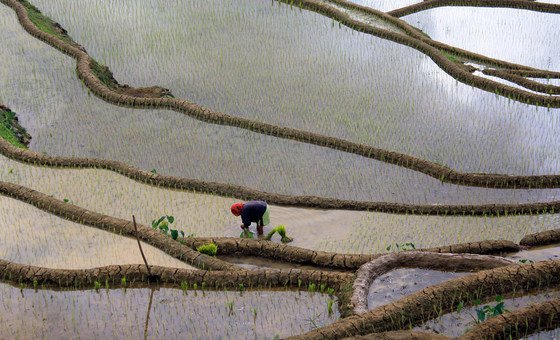 A worldwide network of water analysis laboratories and a tool to foster collective national level action to improve coordination on water management, were among the commitments announced on Thursday by the International Atomic Energy Agency (IAEA) and the UN Food and Agriculture Organization (FAO) on the margins of the Conference, which has been running in New York since Wednesday and will close on Friday, 24 March. 
The commitments, in line with the Water Action Agenda and the push to see all countries achieve the Sustainable Development Goals (SDGs) by 2030, were announced at the SDG Media Zone, which has been the stage for vital discussion and the announcement of other major commitments, while the main plenary and high-level panels have been underway in other parts of the UN Headquarters campus. 
Water analysis labs
Announcing the IAEA's global water analysis laboratory network, known as GloWAL, Director-General Rafael Mariano Grossi said that this interconnected network can through the application of nuclear techniques, help countries to identify the nature and characteristics of water (isotopic hydrology). 
"This technology can help us read many things," he continued, citing, among others, a water sources' content, degradation, and renewability. "By establishing this network of labs, we are giving countries the ability to identify from a scientific point of view, the nature of the water issues they are facing" and then developed or adapt policy solutions that address them. 
Further, beyond issues related to the global water crisis, GloWAL will also help address another key challenge facing the international community: the technology gap and lagging access to data collection that has long- plagued developing countries. "When developing countries do not have the ability to know what the problem is and how to solve it, they are in a much worse situation." 
"So GloWAL is about this: its is about giving countries the ability to collect their own data. We are going to train them and give them the necessary equipment to do that," Mr. Grossi explained, adding that: as far as commitments go, this was a very concrete initiative that would help countries be better prepared to face the myriad effects of the water crisis. 
Asked to give an example of how the network my work, Mr. Grossi said that while he wouldn't like to say one country faced more challenges than another, he could point to Tajikistan, the co-host of the Water Conference (along with the Kingdom of the Netherlands). 
Indeed, Tajikistan, which is home to massive glaciers that provide much of the region's freshwater would host a GloWAL laboratory that would monitor the health of those vital water sources.  
"Glacier degradation is a very serios problem in this country and by doing this we are giving them the ability to see how fast the glaciers and snowcaps can be regenerated, and how to perhaps better manage the runoff water, because of course there will be less of it," he said.
Agriculture is a 'dealmaker' 
For his part, Lifeng Li, Director, Land and Water Division at FAO, said that water accounts for 70 percent of global freshwater withdrawals, so rather than being a dealbreaker, agriculture could be a dealmaker in dealing with the crisis.  
"It is doable," he said, because there are many solutions to improve efficiency and reduce the amount of water used for agriculture. Indeed, in many larger countries, like China and the United States, the use of more sustainable water and land management practices has seen crop yields increase even as overall water used for agriculture had begun to decline  
"Irrigated agriculture is at least three times more productive", he continued, stressing that the aim should be to improve efficiency, particularly as we would need to produce about 50 per cent more agricultural products for our planet's growing population by 2050. "We have seen this efficiency lead increased production of 'thirsty crops' like rice, sugar cane and cotton." 
"We strongly believe that agriculture can contribute to a more water and food secure world in the future … if we first look at efficiency … and second, the agriculture sector should look at how to re-use and recycle water. For instance, many countries and especially in their urban areas, are making strides to re-use their wastewater, after it has been treated, for agriculture. 
With this in mind, he said that FAO had submitted seven commitments to the UN Water Conference, dealing both with policy as well as innovation. Running through all the agency's initiatives, he noted among them, the National Water Roadmaps towards the 2030 Agenda, a tool to foster collective action at national level to improve cross sectorial coordination on water management and governance in support of the SDGs.
He also announced a "Global Dialogue on Water Tenure" within the framework of water governance, and to engage with Member States, as well as partners from civil society, academia, the private sector, and sister UN agencies, to define principles on the Responsible Governance of Water Tenure. 
Working together
Nanette Braun, Conference Spokesperson (UN Department of Global Communications), asked how the two agencies might work together towards the goals of the Water Action agenda and Mr. Grossi said that FAO and the IAEA had been long-time partners in these areas and indeed, they were the only two international organizations to have a joint working centre, in this case for Nuclear Techniques in Food and Agriculture.  
"We recognized early on that the nexus between energy and food," explained Mr. Grossi, and the Joint Centre aims to contribute to global food security and sustainable agricultural development worldwide.
For example, as FAO was working on enhancing irrigation and other agricultural techniques, the IAEA worked on drought resistant crops. All this work is carried out to ensure there are no negative environmental impacts. "We are bringing solutions to concrete problems." 
[ad_2]

Source link